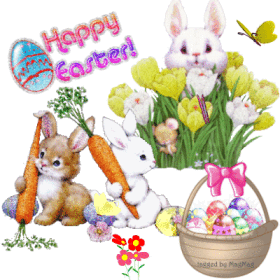 glitter-graphics.com
Easter is a time of springtime festivals.
In Christian countries Easter is celebrated as the religious holiday commemorating the resurrection of Jesus Christ, the son of God. But the celebrations of Easter have many customs and legends that are pagan in origin and have nothing to do with Christianity.
Traditions associated with the festival survive in the Easter rabbit, a symbol of fertility, and in colored easter eggs, originally painted with bright colors to represent the sunlight of spring, and used in Easter-egg rolling contests or given as gifts.
The Christian celebration of Easter embodies a number of converging traditions with emphasis on the relation of Easter to the Jewish festival of Passover, or Pesach, from which is derived Pasch, another name used by Europeans for Easter. Passover is an important feast in the Jewish calendar which is celebrated for 8 days and commemorates the flight and freedom of the Israelites from slavery in Egypt.
Easter is at the end of the Lenten season, which covers a forty-six-day period that begins on Ash Wednesday and ends with Easter. The Lenten season itself comprises forty days, as the six Sundays in Lent are not actually a part of Lent. Sundays are considered a commemoration of Easter Sunday and have always been excluded from the Lenten fast. The Lenten season is a period of penitence in preparation for the highest festival of the church year, Easter.